How to Become a Real Estate Agent in North Carolina
Are you finally ready to learn how to get your real estate license in North Carolina? We're glad that you're here and willing to take this step in your career, and we congratulate you for making it this far. Read our easy how-to guide below for each step you need to take to get your license.
Why You Should Become An Agent In North Carolina
Let's discuss some of the great benefits of getting your license in North Carolina before we get into the four steps you'll need to complete for this process. As a licensed agent, you'll have the freedom to control your life more than traditional nine-to-five jobs. You'll have better control over your schedule, your workload, and your income. Brokers in this industry get to be their own boss and help other people on their journey to finding the right home for them. When you take the plunge to get your license in North Carolina, you gain the ability to control your future and make money in many different ways.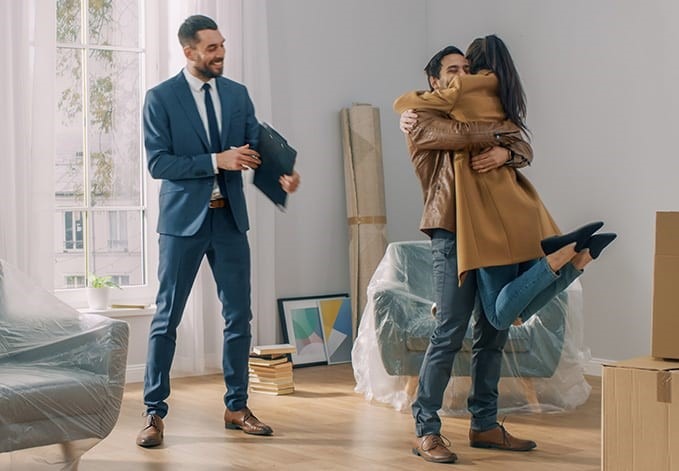 As a licensed agent, you'll be able to rent or sell homes throughout the entire state, plus get access to retail buildings, office buildings, factories, and more. Especially if you're interested in investing, this is a great way to get your foot in the industry and gain access to additional resources that could help you stand apart from the rest.
One of the best reasons people choose to get involved in the real estate industry is that they don't have to have a college degree or any prior experience in the industry. Maybe we're biased, but we think that real estate is a fantastic career opportunity that you can get involved in quickly, without the thousands of dollars in student loans.
With RealEstateU®, you can get your license in as little as one month. Let's discuss the four steps you'll need to get licensed in the state of North Carolina.
4 Step Overview
Here are the four steps required to be allowed to practice real estate in North Carolina:
Step #1: Complete the 75-Hour NC Broker Pre-Licensing Course
Step #2: Submit a License Application and Complete Your Background Check
Step #3: Schedule and Pass Your State Licensing Exam
Step #4: Receive Your Broker's License
Read on as we discuss them in more detail.
Step 1
The first step is to complete the 75-hour NC broker pre-licensing course. According to the North Carolina Real Estate Commission, this course must be taken with an approved education provider, and it must follow the Commission's required syllabus.
You can take the course online or in-person, though many prefer to take our course online because it gives them more flexibility, and they can complete the course much faster on their own time than in a classroom.
At the end of the course, you must take a proctored, end-of-course exam that consists of 100 multiple-choice questions. You must get at least 75% of the questions correct to get a passing grade.
Immediately after you pass this exam, you will receive your Course Completion Certificate, which you will need to complete your license application. When you take this course through us at RealEstateU®, we will send your course completion information to the Commission within one week.
Step 2
The next step is to submit a license application to the state and complete a background check. After you complete the pre-licensing course, you'll create an account through the NC Real Estate Commission's website.
However, before you can submit this application, you must submit a criminal record report, generated within six months of filing your license application. This background check must be obtained from CriminalRecordCheck.com, and the cost of the report varies depending on the location.
After you obtain this report, you can then submit your license application online and then pay the $100 application fee. The Commission will process your application and email you a Notice of Exam Eligibility within 2-3 days. This notice is valid for 180 days.
Step 3
Once you submit your application, the next step is to schedule and pass the state licensing exam. It is recommended that you wait one business day following your Exam Eligibility receipt before contacting PSI to schedule your exam to ensure that the PSI has enough time to upload your eligibility record.
The state licensing exam is administered by PSI at one of PSI's testing centers. You can make your exam appointment online through PSI's website or by phone at 800-733-9267.
You should expect the state licensing exam to consist of both a national section and a state section. The nation portion has 80 multiple-choice questions, and you have 120 minutes to complete it. To pass, you must answer at least 57 questions correctly.
The state portion has 40 multiple-choice questions with a time limit of 90 minutes. To pass this section, you must answer at least 29 questions correctly to pass.
In addition to the 120 scored questions, the exam will include additional pretest questions (5-10 national questions and five state questions), which do not count towards your exam score.
These pretest questions are experimental questions, which are included to help develop future exams.
You have 180 days after you submit your application to take both sections of the exam. If you do not complete both portions within that time frame, you must reapply and pass both sections again.
You will receive your grade immediately after taking the exam, and PSI will send your results to the Commission, regardless of whether you passed or failed.
The state licensing exam costs $64 for the first attempt, which is paid directly to PSI.
It is important to note that the $100 application fee PLUS the $64 examination fee will be collected each time an applicant takes one or both sections of the license examination.
Step 4
The last step is receiving your broker's license. After you pass the exam, character issues will be reviewed by the Commission. If there are no issues and your application is complete, your license certificate will be mailed to you within ten calendar days of passing the state licensing exam.
Congratulations, you are now a licensed North Carolina Provisional Broker!
Real Estate North Carolina Application
One tip we always give new people coming into the industry who want to pass the North Carolina state exam is to study the key terms and the glossary. Our course will provide you with a course glossary with key terms you should be familiar with. Though you definitely don't need to have the entire thing memorized, it's a good idea to at least read through the whole thing and have a general idea of what the terms mean.
It's also essential to understand the local laws and regulations that come with your state. Sometimes the rules and expectations for being an agent are different than in other states, so be sure to review what your state requires in addition to general real estate requirements.
Next Steps For You
When you're ready to start moving forward with your real estate career, RealEstateU® can help. In just a few easy steps, you can get your North Carolina broker's license online at your own pace. Check out our courses today and see if it might work for you.
We have a 30 day, no-hassle, money-back guarantee if it ends up not being the right course for you.