How To Get Your Real Estate License In Idaho
Real estate might be right up your alley if you are looking for a challenging, fast-paced career that allows flexibility in your schedule and gives you more purpose. Be your own boss, connect with families and other business owners, set your own income, etc.
In this article, we'll cover how to get a real estate license in Idaho and share some tips on where beginners should start their journey into the world of selling homes! Below we outline all the steps to get you started.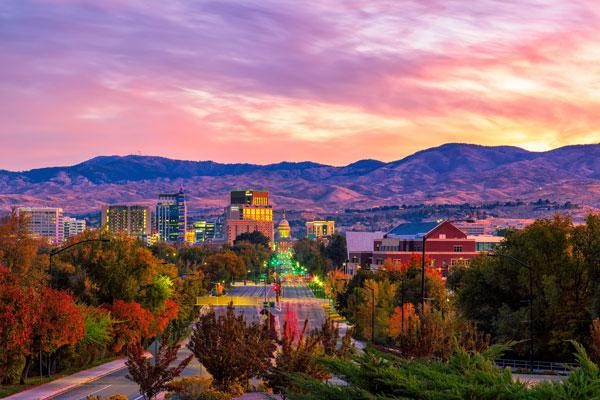 Your Go-To Guide On How To Get Your Real Estate License In Idaho
To sell or lease real estate in Idaho and earn a commission, you must have an Idaho Real Estate License. There are 7 steps to obtain a real estate license in Idaho:
Step 1: Complete Pre-License Education
If you are wondering how to get real estate license in Idaho, the first step is to take the pre-licensing courses, broken into two parts. You must take these courses from an approved education provider.
The first module consists of a 45-hour course covering the fundamental real estate concepts. The second is another 45-hour course that discusses the knowledge and skills involved in listing, selling, buying, and closing property.
You can take this pre-licensing course online or in person. This education is valid for three years.
Step 2: Applying for the State Exam
PearsonVUE conducts Idaho's Real Estate Salesperson License Exam. Schedule your exam directly by visiting PearsonVUE website or calling 1-(877)-540-5833. You'll find exam centers throughout the state, but check the Idaho Candidate Bulletin for a list of addresses.
There is a nonrefundable exam fee of $80, which you can pay directly to PearsonVUE. They accept credit cards, money orders, company checks, vouchers, or electronic check.
Make sure you bring your course completion certificate when you show up for the exam. You will also need two forms of identification (one must be government-issued).
Refer to the Idaho Candidate Bulletin for more information on examination schedules, site locations, exam security, reporting, and preparation.
Step 3: Take and Pass the State Exam
The Idaho state salesperson exam is divided into general and state law sections and uses multiple-choice questions. The national section consists of 80 questions, and you'll have 150 minutes to complete it. The state section includes 40 questions and allows you 90 minutes to achieve. You'll have a total of 4 hours to complete the entire exam.
The state of Idaho uses a scaled score running from 1 to 100 and is intended to compensate for the various difficulties in each question. It is not a reflection of the actual number of questions asked or passed. You'll need a score of 70 if you want to pass.
Directly after the exam, you'll receive a score report on-screen and a printed official score at the test center. Failed scores will include information on which areas you need to study. Before you can apply for your license, you'll need to pass both portions of the exam. If you only fail one section, you'll only be required to retest the failed section within one year of your initial test date.
Step 4: Get Fingerprinted For Background
Before you can apply for your RE license in Idaho, you'll need to get your fingerprints taken and have a background check run. Unfortunately, background checks can take up to 12 weeks to process. To speed up the process, the Idaho Real Estate Commission highly recommends scheduling your fingerprinting through PearsonVUE in conjunction with your licensing exam.
PearsonVUE will allow you to make your fingerprint appointment reservation once your exam appointment is confirmed. The fingerprinting fee is $61.25, which must be paid at the time of reservation by credit card, debit card, or electronic check.
You can make the appointment online or contact IdentoGo® by Idemia at (866) 761-8069. Make sure you select the correct license type to avoid delays in receiving your fingerprint results.
Your fingerprint and background check results are only good for six months.
Step 5: Sign Up For IREC Online Services
The next step is to create an account with the Idaho Real Estate Commission so you can gain access to their online services. You'll be able to track your license history and education records, and it is a required step to check on your fingerprint status. When you see the message, "RES-OK," your fingerprints have cleared. You cannot submit your license application until your background check clears.
Step 6: Acquire Errors & Omissions Insurance
Idaho requires all real estate agents to have an up-to-date E&O policy before getting an active license. You can use a policy covered by your brokerage, or the IREC has a group policy held with Rice Insurance Services.
Step 7: Apply for Your License
Once you have completed all six above steps, you'll be able to submit your license application. It costs $160 to apply. In addition, you will need to show proof of your pre-licensing education, a high school diploma or equivalent, and evidence of legal U.S. presence. IREC will not process your application that is missing any of these items.
To buy or sell real estate in Idaho, you must be affiliated with a broker. The IREC needs at least ten business days to process your application, but you can track your status online.
As soon as your license is approved, your license will be inactive until your designated broker adds you to their brokerage. Once they do, you can now legally sell in the state of Idaho!
How To Become A Real Estate Agent In Idaho With RealEstateU
There are several compelling reasons to obtain your real estate license in Idaho. The first is the financial gain. The more deals you complete, the more money you make! You may also work from a wide variety of locations. Finally, choose a schedule that fits your ideal way of life. Real estate agents arrange their own schedules, and you won't have to visit an office on a regular basis!
Another major incentive for individuals to choose real estate as their ideal profession is that they can work part-time or full-time. By working only part-time, you may gradually transition into a different career or make additional money on the side. In addition, with a new license in Idaho, you can sell or lease all types of real estate and learn how to invest.
At RealEstateU, you have twelve months to complete the RealEstateU 90-hour Idaho Real Estate Salesperson Course (including the course exams). Our online course is the way to go when you're in a hurry and looking for a simple approach to earn your real estate license. So check out our courses, and let us show you how to get your real estate salesperson license the easy way.