How To Get Your Washington Real Estate Broker Course Online
Becoming a real estate agent is a smart and professional choice, especially when choosing to take the Washington Real Estate Broker Course online. In the state of Washington, the terms "agent" and "broker" are interchangeable, as the state requires all aspiring real estate professionals to take the broker course before being allowed to buy or sell real estate.
Many people are drawn to real estate because of the independence, the power to earn a high income, and the freedom to control their schedule and work life. Real estate agents work and develop their own businesses based on their own needs and work preferences. When you work for yourself, you get to make your own schedule, work when you want, and every day's workload is up to you. Real estate is a people-first business in which you get to help clients with all their real estate needs and get the opportunity to face new challenges head-on.
One of the easiest ways to earn your license and begin a new career is to earn your license online. An online course like the one we offer at RealEstateU is easy to fit into your current life and is more affordable than you might think. Whether you're already working full-time, going to school, trying to raise a family, or whatever life is throwing at you, we make it easy to get your license on your own time. With more time to complete coursework and study and without the hassle of worrying about showing up for a class, what are you waiting for?
Here we go in more detail over all of the steps required to obtain your Washington Real Estate Broker license online.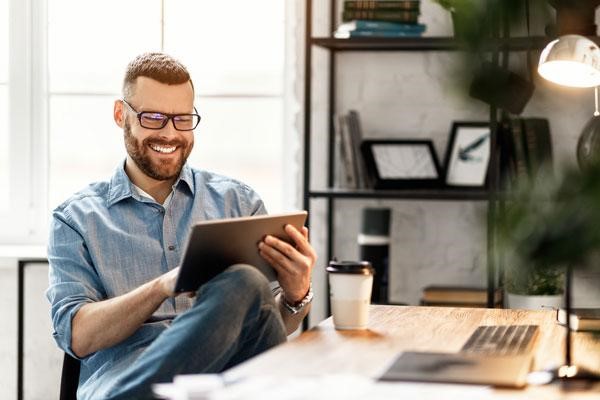 Become A Real Estate Broker In Washington in 5 Easy Steps
In the state of Washington, it is required that you take a pre-licensing course and pass the state exam before being allowed to buy or sell or rent properties for a commission.
The five steps are:
Step #1: Complete The Two Licensing Courses (90-Hours In Total)
Step #2: Schedule And Pass The State Licensing Exam
Step #3: Get Fingerprinted At An IndentoGO Location
Step #4: Apply For Your Washington Real Estate Broker License
Keep reading as we go over each step in detail so you can easily get your WA real estate salesperson license.
Step #1
The first step is to complete the two required courses. The 90-hour pre-license education requirement includes:
1) 60-hour Washington Real Estate Fundamentals Course
2) 30-hour Washington Real Estate Practices Course
Both of these courses include a final exam. The 60-hour Real Estate Fundamentals course final exam contains 200 multiple-choice questions, and you'll need to earn a grade of 70% or higher to pass. You'll need a 70% or higher for the 30-hour Real Estate Practices course exam as well, but this one consists of only 90 multiple-choice questions.
You will receive your Certificate of Completion for each course as soon as you pass each final exam.
Step #2
Once you complete both courses, 90 hours in total, you will set up your free online student account with PSI, the state's testing center. Once your account is set up, we will send PSI your course completion information so that you can schedule your state exam.
You can schedule your state exam through PSI's website or by phone at 1-800-345-6559.
The state licensing exam fee is $138.25 per attempt, which is paid directly to PSI. Examination fees are valid for twelve (12) months.
You must pass the state exam within two years of completing the 90-hour WA pre-licensing courses (60-Hour Real Estate Fundamentals and the 30-Hour Real Estate Practices courses).
The state licensing exam is divided into a National portion and a State portion, and you'll have three and a half hours to complete both parts.
The National portion includes 100 multiple-choice questions, while the State portion includes 30 multiple-choice questions. To be able to apply for a broker license, you must pass both portions of the examination. Please keep in mind that the questions on the state exam are weighted, which means that not all questions are counted the same. For this reason, PSI cannot specifically say how many questions you need to answer correctly in order to pass. Instead, PSI states that you must attain a scaled score of at least 70 on each portion of the exam.
You will receive your exam results at the testing center immediately after you complete the exam.
Step #3
One crucial step you must take before you can apply for your Washington broker's license is to get your fingerprints taken using MorphoTrust's IdentoGO process.
Your fingerprints must be taken in person at one of IndentoGO's locations. There is a fingerprinting fee of $42.80, which is paid to IndentoGO.
These prints will be used to conduct a background check by the Washington State Patrol (WSP) and the FBI. The results of this test will be electronically sent to the Washington State Department of Licensing.
Step #4
Once you've successfully passed the state exam, PSI will send your results to the Washington Department of Licensing, in three business days or less. You will then be able to apply for your WA broker's license online.
To do this, you must first create your free SecureAccess Washington (SAW) account, where you apply for your license and pay the $146.25 license application fee.
You must apply for your license within 12 months of passing the licensing exam's national and state portions. If you do not have a managing broker, you will be issued an inactive broker's license.
However, if you already have a managing broker, your license will be active, and you can officially start practicing as a Washington real estate broker.
The following requirements also apply:
You must be at least 18 years of age and
Have a high school diploma or equivalent before applying.
Get Started With RealEstateU
Are you interested in becoming a real estate broker in the state of Washington but worried about passing the state exam? With RealEstateU's broker course, we are confident you'll be able to pass the exam. We walk you through everything you need to know in the course and even have practice exams you can take to help you feel more prepared. One piece of advice we can give you is to study the course glossary we provide you. You don't have to memorize every single word or phrase, but reading through the glossary a few times and being familiar with the key terms will boost your confidence and prepare you for the exam.
When you're ready to change your career, we've got your back. We'll walk you through every step and help you get your Washington broker's license quickly and easily! Browse through our courses and read some of our countless testimonials before trying it for yourself. We even provide a no-hassle, 30-day money-back guarantee. Get started now!