How Much Does the Average Real Estate Agent Make?
Are you considering switching careers and pursuing real estate? One question that might be on your mind is, "How much does an average real estate agent make?"
Planning ahead to figure out how much you may anticipate earning before launching a new profession can help you understand how much money you'll need to save and how best to manage your spending while shifting careers. For example, real estate agent's revenue is significantly influenced by various things, such as their specialty, years of experience, the number of hours they work each week, and even their happiness.
The amount an average real estate agent gets paid varies depending on several factors, which means that one dollar figure does not suffice. Here we will discuss what goes on in the real estate world and what factors impact the average real estate agent's salary.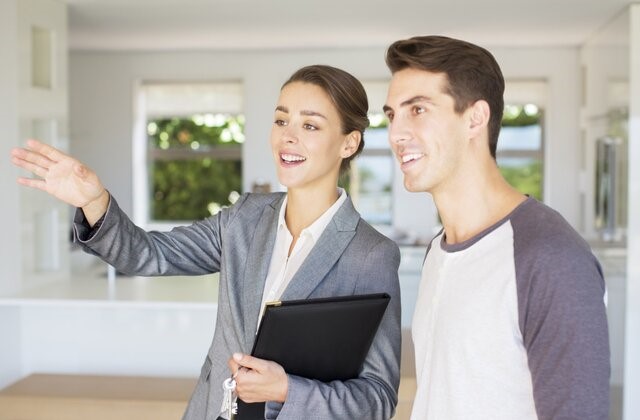 How Much Does the First-Year Real Estate Agent Make?
You've heard correctly if you've ever heard that real estate might be a lucrative field to pursue. According to Indeed, the average first-year real estate agent's salary is just over $83,000 — however, this may vary significantly.
Many real estate agents begin their careers with a lower base salary but earn far more after just one year. In other words, long hours and years of experience lead to significant income gains for active real estate professionals.
Real estate is an industry that differs from others in several ways. For example, how you earn your first-year real estate agent salary may differ from what you've seen in other industries. Being a real estate agent is not usually a salaried position but rather one in which you set your own pay.
Although there are several brokers that provide a compensation stipend as part of their negotiated agreements, the vast majority only pay out percentage-based commissions. Commissions are typically shared in four ways: between the listing agent, their broker, the purchasing agent, and the purchasing agent's broker.
Let's discuss how you can earn more as a first-year agent.
Income Increases With Longer Hours
How much money does the average real estate agent make? One approach to figuring this out is comparing what real estate agents make when they work an average number of hours. In most cases, longer hours result in greater pay.
Typically, agents who put in 30-50 hours a week can expect to earn over $100,000 a year. Of course, agents who work even more can make more as well. Though there are no guarantees, more time spent with clients and building those leads usually leads to more sales.
Your Income Might Depend On Your Niche
The average salary of a real estate agent varies by specialty. For example, a residential real estate agent may make less than a commercial real estate agent.
In general, a real estate agent's average salary is typically between $130,000 and $180,000 per year. However, some fields, such as property management or low-cost housing, have significantly lower incomes while others, like luxury homes or environmental properties, have considerably higher ones.
Property management is a good option for those who want to make money every month instead of commissions, which could mean longer times between transactions.
Easy Ways To Earn More Commissions
Though you know that experience plays a significant role in growing your income, there are some things you can do as a first-year agent to help you get ahead of the game. Here's our list of ways to leverage your industries to get more listings and potentially earn more significant commissions as you grow your business.
Use Social Media
Tell everyone you know that you're a licensed real estate agent, including your neighbors, associates you've done business with, your family, friends, and everyone you're already connected to on social media. Emphasize all of your educational achievements, including your Broker's success rates, and boast about your first few transactions.
Target The Right Areas
Since the average commission is 5-6%, you can jumpstart your earnings by focusing on higher-priced real estate markets. How much can a real estate agent make this way? For instance, selling a $200,000 house at 5% commission (divided by four) is $2,500 – but it's nearly $4,375 if you sell a $350,000 property.
Don't Forget About Customer Service
Real estate is more than just helping people buy and sell their properties. Focus on your buyers and sellers — get to know their cares, concerns, and dreams so that when the right property comes along, you'll be ready! Word-of-mouth marketing is one of your best free tools during your first year as an agent, so it pays if you take the time to get to know your clients and be the best resource for them.
Pursue Ongoing Education
In real estate, as with any other business, there are always new techniques to master. Although the field is continuously changing, there are several methods for learning as you begin your first year on the job. For example, there is always ongoing education that can give you new certifications and networking events that can provide new insights into your career.
Furthermore, qualifications like Certified Residential Specialist (which may allow you to earn up to three times more money) are quite useful. You may also learn a lot about the industry by shadowing a mentor at your broker firm.
Get Creative With Your Marketing
Provide something different to set yourself apart from the competition, such as custom video marketing for each client with their favorite music included or a blog with neighborhood subjects to demonstrate your area expertise.
You may also reach out to any businesses or event planners included in your articles to see if they'd be willing to discuss or share them, and you might be able to leave your real estate business cards at their counter in return for free exposure.
Go Local!
Farmers markets, festivals, home and garden shows, and crafts fairs are excellent ways to learn more about your community and connect with individuals who may require assistance. Consider putting up a booth at one of these house events to advertise your business.
Begin With An Established Broker
Your Managing Broker can give you a leg up when you first enter the real estate business by introducing you to their network, allowing you access to systems like the MLS, and perhaps even setting up office space, marketing tools, and training opportunities to help you develop your income – and theirs!
Join the National Association of REALTORS® (NAR)
Join NAR today and get access to a wealth of useful services and discounts, as well as the opportunity to network with over 1.4 million members.
In terms of compensation, one in four designated REALTORS® receives more than $100,000 a year, and about a third choose to enhance their earning possibilities by becoming licensed Brokers or Broker Associates.
Let REU Help You Get Your Real Estate License Quickly
Pre-Licensing courses, including our industry-leading Pre-Licensing programs, are everything you'll need to become licensed and start your new profession in real estate. Enroll today and begin your future right away! Learn what to expect out of a real estate pre-licensing course.
You'll love our courses because they can be taken from nearly any device, and on your own time. Read about all of the benefits of our courses here.