Now it's time to get into the nitty gritty of TX real estate license requirements.
Specifically, it's time to look at the exact steps you must follow.
In this chapter we'll show you the specific steps that you can use and we'll show you LOTS of examples.
Let's dive right in.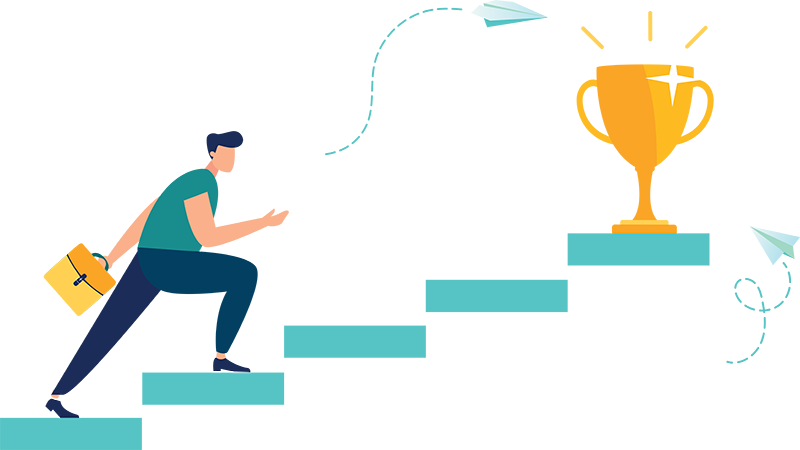 In a nutshell here is how to get your real estate license in Texas.
Now let's cover each of these steps in detail.
Step #1
Complete the TX 180-hours Real Estate Courses
First, you must complete six, 30-hour courses (180-hours in total). These courses must be approved by the Texas RealEstate Commission (TREC).
The 6 courses (each course is 30 hours long) are as follows:
Principles of Real Estate 1
Principles of Real Estate 2
Law of Contracts
Promulgated Contract Forms
Law of Agency
Real Estate Finance
If you are looking to SAVE money and time you should take the Texas real estate license courses online.
Compared to a classroom setting, this will SAVE you anywhere from 40-74% from the course price of getting a realtor license in Texas. Plus you will be able to study at your own pace.
We'll provide you pricing from several Texas real estate schools in the cost section later on…so keep reading.
TX School Final Exam
At the end of each of the 6 courses there is a proctored final exam.
To complete your Texas education requirements you MUST pass 6 final exams, one for each course. The state allows for 2 attempts at passing each exam. If you fail both attempts you will have to retake the 30 hour course before you can sit for your final exam again.
The fastest way to get your real estate license in Texas is to also take the proctored final exam online. The benefit is that you don't have to drive to a school or proctoring location. You will be in the confort of your own home.
For example:
A popular proctoring solution is ProctorU which is chosen by quite a few educational institutions.
Once you complete your Texas education requirements you can move on to the next step.
Step #2
Submit your Sales Agent License Application With Texas Real Estate Commission
When you complete your education and obtain your certificates of completion, head over to the TREC website and apply for a real estate license.
Once your application is approved, you will be eligible to sit for the Texas State exam.
Click on the "Become Licensed" tab and select "Real Estate Sales Agent" under the "Real Estate" dropdown menu.
Follow the instructions in the first tab "File Your Application".
You will have to register for an online account with TREC.
If you want to learn how to become a real estate agent in Texas using a paper application you can head over to the Texas realestate commission paper application. They provide you with a downloadable form that you can then fill out.
If you are looking to get a real estate license in Texas for the first time you are actually applying for an initial inactive sales agent license. In order to receive an active sale agent license you need to have a sponsoring broker (we'll discuss this a bit later).
Step #3
Get Background Check and Fingerprinted
Anyone applying for a TREC license must submit their fingerprints for a criminal background check. The fingerprinting procedure is simple and may be completed in a few stages.
First you will have to go to the IdentoGo Texas section and select the "Digital Fingerprint" option.
Your fingerprints and background data will be submitted to the FBI via the Teas Department of Public Safety (DPS). The information will be stored for future use. For example in the future when you will renew your license you will not have to go through this process again.
Step #4
Take the TX State Exam
The Texas real estate State Exam is proctored through PearsonVUE, a testing service company.
Make sure you have your TREC ID handy as you will need it to sign up on the PearsonVUE website.
Click the "Create account" button and follow the instructions.
You will be asked to fill in your TXREL ID which is the TREC ID you were issued when you signed up for your TREC sales agent licensing account.
The Texas real estate STATE exam is divided into two parts:
National portion which consists of 85 multiple-choice questions and
State portion which consists of 40 multiple-choice questions.
You must answer at least 56 questions correctly on the national portion and 21 questions correctly on the state portion in order to pass the overall exam.
If you fail the state exam 3 times in a row you will have to retake one of the 30 hour courses before you can take the TX State exam again.
How To Prepare for TX State Exam?
If you are looking for additional resources to prepare for your Texas real estate state exam and you are on a budget then you can take a look at the Quizlet Texas flashcard estate exam portion. This is a FREE option.
PearsonVue offers a real estate license Texas Practice test which is inexpensive.
This is a well thought out state exam prep guide. There are also plenty of sample practice tests that mimic the Testate exam. And you will find filtered out information you need to know for your Texas state exam.
Step #5
Get A Sponsoring Broker in Texas
Real estate agents in Texas are required to work under a brokerage company.
In Texas a sponsoring broker will hold the agent's license for the duration of their employment.
Although from a tax perspective you are considered self-employed in Texas, you will be employed by a brokerage.
Chances are that you will know early on which brokerage you want to work for. However, if you don't have a broker and don't know where to start then do a Google search.
For example:
Use the search terms: "Texas real estate brokers next to me" and you will be shows with plenty of results.
Focus less on getting the high commissions at first and focus more on getting properly educated.
Another easy and practical way to choose a broker in Texas you can check out Indeed.
For example:
We searched for "real estate agent in Texas" and here is a list of brokers and how much a real estate agents can potentially earn.
If you already know which brokerage you will want to work for, good for you.
Once you have a sponsoring broker your application is complete.
Both you and your Sponsoring Broker will get an email with your Active Sales Agent License. You can also use TREC's License Holder Search function to seek up your public license number.